Stone Edges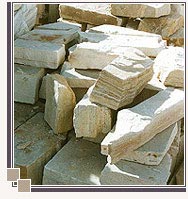 Stone edges play an important role in increasing or decreasing the value of the various tiles and slabs that are fabricated from natural stone. Fine edges are crucial for imparting an aesthetic look to the architecture or structure where they are to be placed. The stones with finely designed edges enhance the appearance of the flooring, ceiling, wall, or any other area of the structure, whether interior or exterior, where they are placed. Often, there are three main types of edges found in practical viz., Chamfered/Beveled Edges, Machine Cut Edges, and Hand Chiseled/Hand Dressed Edges. The same are as mentioned below:
Chamfered / Bevelled Edges
In this technique the edges of various stones are chamfered or beveled. In chamfering, a polishing brick is run at a 45° angle to remove the stone's whiteness. The chamfered edged slabs found their application most commonly in the kitchen. These slabs are both elegant in appearance and easy to clean. Chamfering technique helps in eliminating in the extra whiteness that is left on the saw cut edges.
Machine Cut Edges
This technique is of great facilitation for the mason. It can be said a mason's friend. This is so because, in this process the edges of a stone are precisely cut into standardized sizes by a hot-rolling blade. The edges of these roller blade cut slabs/tiles are very smooth. It makes the stone slabs or tiles easy to be fitted at the required place.
Hand Chiseled & Hand Dressed Edges
In this technique the edges of stones are shaped manually by hand, by the professional workers. For the purpose of cutting or smoothening the edges of stones, sharpening stones and honing tools are used by the workers. The edges of the hand-chiseled tiles/slabs resembles the natural surface finish. The tiles/slabs with hand-chiseled edges often found their application in exterior walls of houses and other buildings, and pavements.